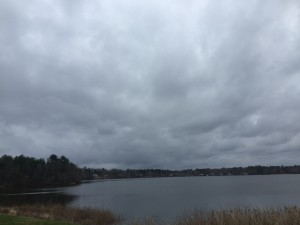 Have you ever experienced a wet rainy day that seemed to go on forever? You know the kind, that even after driving for perhaps a couple hundred miles all you see is a large vast of gray clouds overhead and the constant torrent of rain.
While we all know that rain is very much needed for crops and plants and the well being of the planet, for the most part we do not like experiencing it when it inconveniences our best laid plans for outdoor activities.
Sometimes our personal lives go through periods of overwhelming gray and darkness and it seems as though the relentless rain of difficult times keeps pouring down on us. Yes, it is true that those times are real and sometimes painful and highly discouraging. I have experienced it on many occasions and it does not at all feel good.
However, I for one have discovered something that gives me much hope even in the middle of darkness and despair. I have discovered that the sun still shines above the clouds! I had the pleasure of taking a flight to Jamaica about two years ago nearing the end of a long cold New England winter in Boston. I remember getting to the airport with a large coat, bundled up and it was very cold with the wind blowing and a bit of freezing rain. I was looking forward to getting to Jamaica and experiencing the 82 degrees that was forecasted that week.
When the plane thundered down the runway, there was nothing that had changed outside my window. The rain was still coming down, it was still cold and windy, and the gray sky was as far as the eye could see. Up we went, and minutes later the entire plane was engulfed in clouds so that there was no visibility from my window. And to the unknowing, it would seem as though that the entire flight would be like that. Just a bleak gray of space that would never see the light of day. But then something amazing happened. We were flying faster and higher, and with each foot of elevation we were closer to the sun and farther from the earth.
That is important to know, because that is where the miracle begins to take shape. It is in the very knowledge that regardless of what things look like outside of my window, I knew that sooner or later we would be above the clouds and nothing but brilliant sunlight would flood the vastness of the heavens.
It is the same knowledge of hope and knowing that in our daily lives the sun is always shining regardless of what we can physically see or experience. In the spiritual sense, the Son is always shining his love toward us even if we have difficulty feeling it. The knowledge that He is always there, always present should propel us to get above the current cloud of circumstances we are in and experience the love of God shining in our lives.
I often use the thought of his eternal power and knowledge to get me through difficult circumstances. When I am having a really difficult day or week, I think on the thought that he already knows the outcome of the day and week. He knows just how things are going to turn out, and all I have to do is walk toward the end result that he can clearly see all of the time.
Have you ever felt discouraged as a Christian believer? Does it seem that no significant change is happening in your life? Well, take heart in knowing that the God of the universe, sees your life as the end product of his work. Please take comfort in this: "being confident of this very thing, that He who has begun a good work in you will complete it until the day of Jesus Christ;" Phil 1:6
Soldier on my friend and remember that things are not what they seem, actually they are better! You can rest in the guarantee that just as the sun does shine above the clouds of rain, that our God still shines his love toward us as we move closer to the Son and farther from this earth!
Eugene Coghill