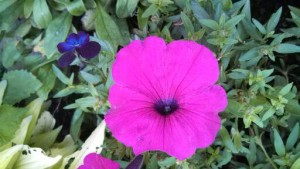 The New Kingdom Will Inspire Joy To The World
by
Eugene Coghill
This letter goes out to close friends and strangers who I shall meet, who will become friends.
I wanted to take the time this holiday season to share a few things from the heart about renewed hope that this season brings. We live in a stressful world and it can be difficult at times to see the joy in faces of people around you. While I was doing some shopping I made a point to step back and reflect on what this season is all about, and wondered why that the most joyous time of the year brings about the most stress in our lives. I saw people with faces that did not reflect hope in this world's future. As the world gets further and further removed from the real meaning of Christmas, I wanted to take the time to remind us exactly what the hope and joy is all about.
While driving into Boston this morning I heard some inspirational Christmas carols and found my self singing out loud. One of my favorites is called Joy To The World. The title is in stark contrast with the news headlines in the paper or on television. However, Joy To The World, is the future headline of news in the new Kingdom that will be established here on earth. The song reflects the hope of the renewed creation, and peace that will be earth wide and the renewed brotherhood of mankind. Joy to the world, reflects all of our current global problems solved by a much better government, and ran by the King who was born over 2014 years ago, Jesus Christ.
Joy to the world reflects a time, when sickness, sadness, death and sin will be no more. Joy to the world, will mean we no longer deploy troops to distant lands to engage in war. We won't learn how to conduct war. Joy to the world, will mean enough food for everyone, and no longer will our TV screens show the faces of hungry children, and our homeless shelters will be a thing of the past. Joy to the world, will reflect people from every nation, race, color and creed will come together under the banner of one God.
Joy to the world, will reflect paradise renewed, that was lost by Adam and Eve. Our life will not be zapped of energy, old age or death. Joy to the world, when our children will play safe and secure, and their laughter can be heard all over the neighborhood. Parents will no longer fear, abductions, molestations, handguns and drugs will be far removed from our youth. Joy to the world, will mean a time when truth is welcomed by all, and corruption greed and politics will not compete for our attention.
I am speaking of a time that is hard to imagine, because what we see is all that we have ever known. However there is hope, because as most of you know; that little baby that was born in Bethlehem, over 2000 years ago, has been appointed the reigning king over this earth to rule God's Kingdom right here on planet earth. His government can do what our governments cannot. It will solve issues that are impossible for us humans to solve. His government can administer justice righteously, and money or the color of your skin will not be important. I am speaking of a future time, but there is something that we can do right now while waiting for it.
For those of us who are Christians, we can demonstrate to others what life will be like in the new Kingdom. We are called to be a role model to the rest of the world, beginning with our family and friends who know us best, even with all of our faults and mistakes. Parents are called to be a role model to children. Husbands are called to be a role model to your wife and show unconditional love just as Jesus does for us. It does not take much to bring a little bit of heaven down to earth. Small simple gestures such as holding the door for someone else, a kind word to a stranger, a helping hand to a friend in need or some time spent with the ones you love and those who are alone and lonely. How about a phone call to show you care, or a random act of kindness. And may you always be reminded that the joy and smiles that you bring to others will be reflected back to you.
So this season as you busy yourself with all you have to do, take the time to remember that the greatest gift you have to give to others is not found in a store, in the mall, or online. The greatest gift you have to give to those around you is found inside of you. It is the gift of yourself and love for others that you can share daily, and it does not cost you anything except your willingness to love others.
So while we all are waiting for God's Kingdom, whether we are alive or sleeping in our graves, in the meantime we can bring a little bit of God's Kingdom to those around us by our lifestyle. I will leave you with this, try your best to treat your family and friends as if they were your next door neighbors in the Kingdom, and treat them as you would yourself. I am wishing all of you a joyous holiday season. And may God's love fill your heart so that you may share it with others. Let it begin with me. Your life can become a whole new adventure and then you too will proclaim: Joy To The World!