What would you dare to accomplish, if you knew you could not fail? That question has the most potential to transform your life once you fully understand the power thereof.  Countless generations of people have propelled themselves to greatness far beyond the boundaries of mediocre minds.  That is a very bold statement and can seem intimidating to the uninformed.  But let's dig a little deeper, shall we, to see the seeds of accomplishments grow to yield and produce results that are only limited to your imagination.
To get a full understanding of your untapped potential, we need to look at what you and I are made of by design from our creator.  The laws and principles that have produced every product ever made, every  human endeavor and all that is still yet unrealized was set in motion and established at the moment of creation.  In fact, it actually predated creation as an eternal law of the creator.
Consider this, all that you and I see and experience in the physical realm was the direct expression of the thoughts of God.  Those thoughts were spoken by him and the principles and laws brought it to pass just as you see it now.  How cool is that?  Perhaps you have heard the expression of "what the mind can conceive and believe, can be achieved."  The creation is the greatest expression of "As a man thinks, so is he".
What I have discovered to be fascinating over the years is that the law is very precise and exact, and it works in direct proportion to our thought process.  I did not know it at the time, but as I look back over my life I can clearly see that I am a living example of the thoughts that consumed me and pushed me to some accomplishments, that on the surface seemed unachievable.
I was just naive enough not to understand failure, and nobody had brainwashed me otherwise, therefore my mind was free to dare to do what it had conceived.
My early childhood and teenage years were extremely challenging as I maneuvered and endured the harsh reality of an abusive foster home and teenage group home.  During the many years of physical and mental abuse, my imagination was the only solace of refuge from the environment around me.  Little did I know that my mind was forging a foundation that would be instrumental in transforming my life from juvenile crime, anger and self destructive behavior, to focused efforts and various career paths with personal goals and accomplishments.
It's funny how circumstances of life are set in motion by the power of the mind in the form of a creative thought.  I recall that on very hot summer days in Virginia, my foster mother would not allow me outside to play.  I was relegated to sitting on the closed in porch in a chair with very little to do or watch.  Imagine a life with no internet, smartphones or HD tv!  How did I ever survive! So in my effort to mentally disassociate from my private misery, I would pretend that I was driving. Yes, you heard me correctly, driving.  Directly across the street, a neighbor had an old broken down 55 Chevy, the kind with the shifting mechanism on the steering column.  It was known as a "three on a tree", due to the three gears needed to drive it.
Every now and then, foster mom would send me across the street to run an errand or tell the neighbor something.  Trust me when I tell you, I was glad to do so.  Every time I went on that errand, I always seemed to take way too long, as the 55 Chevy and me took countless trips all across the United States!  I would sit in the car and put my hands on the wheel and make all the engine sounds and even taught myself how to clutch.  I had seen other people drive and I was always watching the hand and feet coordination.
Driving that old car in my mind was the greatest escape I had ever experienced up to that time, until I saw something even greater, a Tractor Trailer!  While going all over the tri-state area with my foster father who was a church deacon, every Sunday was a trip to somewhere.  And because I was still a child, I could not opt out, so I piled into the car and would stare out the window waiting to see these big trucks rolling down the road.  I could not keep my eyes off of them and I always wondered where could they be going.  I dreaded coming off the Interstate, knowing that there were untold miles of undiscovered highway that those truck would find.
It was on one such ride that I put the thought in my head that I wanted to find out where all those interstate roads went to.  And just how do you do that?  Become a long haul over the road truck driver!  I was about eight years old when the first seed was planted for my driving career that would not materialize until I was 37. Various career paths came and went, to include the Marine Corps, law enforcement and corporate investigator, but the seeds of seeing myself behind the wheel of a big rig was growing in my subconscious.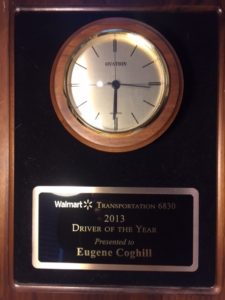 Tonight as I write this I can tell you that I have had an amazing 18 year career driving behind the wheel of an 18 wheeler with over 1.5 million accident free miles.  When I first walked into the terminal of my first company that hired me, I saw a driver Hall of Fame board for drivers who had driven over 1 million accident free miles.  There were only a handful of names from a company that had over seven thousand drivers!  I stared at that board for a few minutes and visualized my name on a plaque there, and told myself that achieving that was the only definition of my personal success.
With a lot of hard work and a safety conscious effort, in October 2010 I was honored by the American Trucking Association as a million mile safe driver, and in 2013 voted as Driver of The Year for my current company.  The seed of completing that accomplishment all began as a small visual in the mind of an eight year old boy.
That same format of placing the thought and visualizing the outcome has propelled me to run and complete two 50 mile ultra marathons as a teenager with limited training gained on the high school track and cross country team.  It is virtually unheard of to run and complete that distance while never having ran over 10 miles at any given time.  I did not know failure, and I literally thought that all runners did that.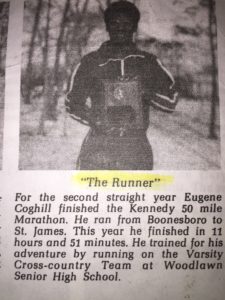 You and I, have amazing potential and it is easily accessed with the thoughts we conceive.  I dare you to experiment with your own thought life and do something unconventional.  You were created unique, and destined to put your individual stamp on life.  Why be normal, when you were created to be different?
Go, be bold, be brave and make an impact that only you can make.  It all begins with a small internal voice, that boldly shouts: "Nobody can do my life the way I do!"
Eugene Coghill is a professional driver for a major trucking company, and a published author of a novel, Love Is A Fishnet.  Side interests include blogging for Kingdom Living, and helping others create a second income by showing them the simple advantages of the World's #1 Affiliate program.